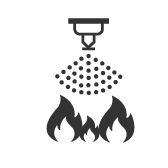 Fire Protection Nozzles
Spraytech Systems has a comprehensive range of Fire Protection nozzle-related products that offer a number of fire protection applications including extinguishing, prevention & asset protection. There are a variety of industrial spray nozzle options available that can be used for many purposes. Visit our spray nozzles page to get the full range of spray nozzles.
Fire Protection is essential for all industries
Our Range of Fire Protection Nozzles
Our Full Cone Nozzles deliver high performance spray distribution in a concentrated circular-shaped formation. It can be operated under a variety of pressures and flow rates that give operators precise control. In addition, these full cone nozzles are designed to have unobstructed flow passages that ensures minimal clogging, reducing maintenances time and cost. At Spraytech we offer a variety of full cone nozzles from Full Cone Type B1 that produces uniform full cone spray patterns to Narrow Full Cone Injector Nozzles that produces concentrated cone spray pattern.
Our Multi-Head Misting Nozzles are designed with 7 threaded sockets fed from a gallery in the main body producing spray patterns that cover a very wide arc. At Spraytech these nozzles are available in 3 different sizes – ¾", 1" or 1 ½" BSPF with flow rates that range from 3.1 L/min to 350 L/min and operating pressures from 1 to 10 Bar. This means you will be able to find the right multi-head misting nozzle for a variety of fire protection applications.
✔ Spray Nozzles In Sydney (NSW)
✔ Spray Nozzles In Melbourne (VIC)
✔ Spray Nozzles In Brisbane (QLD)
✔ Spray Nozzles In Perth (WA)
✔ Spray Nozzles In Adelaide (SA)
✔ Spray Nozzles In Canberra (Australian Capital)
Talk to Spraytech about Fire Protection Nozzles
It doesn't matter what the industry is, Spraytech has the right Fire Protection  option for you.
Just give us a call on (08) 9259 4350 or send us a message through our enquiry form.