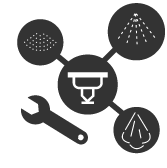 Nozzle Accesories
Spraytech Systems has a comprehensive range of Nozzle Accessories for a variety of applications. With such a broad range of nozzles available at Spraytech we ensure we accommodate your nozzle-related applications needs. Visit our spray nozzles page to get the full range of spray nozzle accessories.
Our Range of Nozzle Accessories
Our AP Swivels features an easily adjustable swivel join that enables a spray angle to be precisely redirected from any nozzle that has a pipe thread.
Our Split Eyelets are designed to connect and fit around a tube. They are equipped with fastening bolts, a sealing gasket resistant to a variety of chemicals and a connector body.
✔ Spray Nozzles In Sydney (NSW)
✔ Spray Nozzles In Melbourne (VIC)
✔ Spray Nozzles In Brisbane (QLD)
✔ Spray Nozzles In Perth (WA)
✔ Spray Nozzles In Adelaide (SA)
✔ Spray Nozzles In Canberra (Australian Capital)
Talk to Spraytech about Nozzle Accessories
It doesn't matter what the industry is, Spraytech has the right Nozzle Accessories option for you.
Just give us a call on (08) 9259 4350 or send us a message through our enquiry form.